Cook Inlet
2008 Kenai LNG Facility Settlement Agreement Seismic Data
Interior Basin
The State of Alaska and the U.S. Geological Survey, in a cooperative effort, have compiled all of the geological and geophysical data for the interior of Alaska at a scale of 1:500,000. These data are available both in digital form as well as map form. The compiled data consist of the total-intensity magnetic-anomaly, the complete Bouguer Anomaly and the mapped geology, and cover the major interior basins of Alaska. The limits of data coverage are from 61° to 66° latitude and 144° to 159° longitude.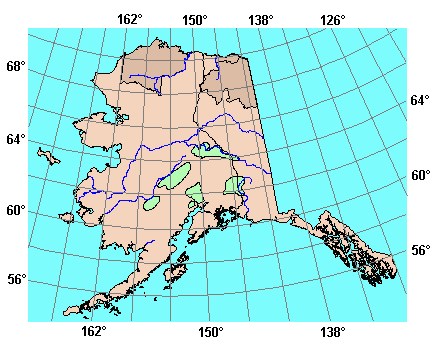 The gravity, magnetic and geologic maps are now available (Maps GP-1016, GP-1014 and OFR 98-133, respectively). Paper maps can be obtained from the USGS. The digital data (OFR 98-133A) have been compiled on a CD and are also available from the USGS.
USGS Contact Information:
U.S.Geological Survey
Alaska Science Center
4230 University Drive
Anchorage, Alaska 99508-4664
907-786-7011
Biostratigraphic Analysis
Biostratigraphic Analysis of Northwestern Alaska Peninsula Bristol Bay Basin Exploration Wells
The Alaska Department of Natural Resources, through both the Division of Oil and Gas (DOG) and the Division of Geological and Geophysical Surveys (DGGS), completed technical studies in preparation for the areawide lease sale offering of state acreage on the Alaska Peninsula in October, 2005. The offering is the first state lease sale in the region since 1985. DOG is committed to assembling and publicly distributing as much geological and geophysical data and interpretation as possible as a means of renewing petroleum industry interest in this under explored area. For example, in January, 2004, DOG released to the public an extensive compilation of digital information, including geologic maps, well logs, and seismic data free of charge in a three-volume set on compact disk.
In order to better define the regional stratigraphic and structural framework of the Tertiary-aged Bristol Bay Basin (also known as North Aleutian Basin) in advance of the proposed lease sale, DOG contracted with Micropaleo Consultants for professional services to complete a biostratigraphic analysis already in progress of 11 key exploration wells, representing both onshore and offshore penetrations of the basin. The data and interpretations are provided in both fully digital and hard copy formats.
Photomicrograph Plates (TIF) Palynomorph Plates
Siliceous Microfossil & Calcareous Nannoplankton Plates 1 - 3
Foraminifera Plates 1 - 5
Biostratigraphy Correlation Sections (PDF)
Alaska Geologic Carbon Sequestration Potential Estimate
This is the final report for the Alaska Geologic Carbon Sequestration Potential Estimate: Screening Saline Basins and Refining Coal Estimates Project under contract number MR-045, conducted by the Alaska Department of Natural Resources. The information from this project contributes to the California Energy Commission PIER's (Public Interest Energy Research) Environmentally Preferred Advanced Generation Program.